We are pleased to announce the release of OMNI Platform Agent v2.4.0, a major update that brings a host of new features and enhancements to our platform. This release is a testament to our commitment to providing best-in-class video stream processing and business intelligence solutions.
New Video Stream Processing Capabilities
People Tracking: With the integration of room schematics, OMNI Agent now offers advanced people tracking. This feature allows organizations to create heat maps of people flow, identify popular or less traveled routes, monitor movement toward potentially hazardous areas, and track visits to areas where products are being promoted.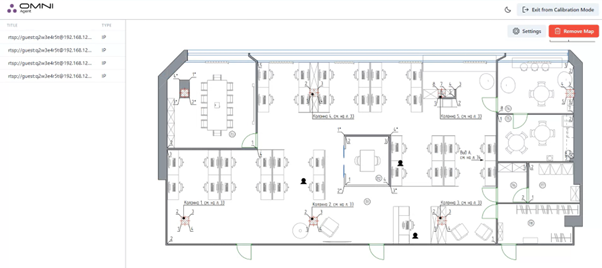 Lying and fighting detection: Safety is paramount. Our new Lying and Fighting Detection feature immediately identifies situations where people may need help, allowing for timely intervention.
Line crossing and Region of Interest (ROI) entry detection: Enhance your security measures without the need for physical barriers. This feature automates perimeter security, monitors individuals approaching potentially dangerous areas such as cliffs and bridge railings, triggers displays based on camera zones, and even alerts staff when customers are nearby.
Reduce infrastructure costs and increase efficiency
Standalone application: OMNI Agent v2.4.0 can run independently, eliminating the need to connect to the Omni Platform. This means that organizations can now integrate its API into third-party silhouette and facial recognition solutions without platform-based identification, resulting in significant savings in server-side maintenance costs.
ARM64 and NVIDIA Jetson Support: To accommodate hardware with higher processing capabilities, OMNI Agent now supports the ARM64 platform, including the NVIDIA Jetson. This provides users with a smoother and faster experience.
Faster Downloads and Reduced Disk Space: We've optimized our installer and cut its size in half, resulting in faster downloads and saving valuable disk space.
Streamlined detection process: Experience improved efficiency with our refined resource consumption for the body detection process.
OMNI Agent v2.4.0 is not just an update; it's a revolution in video stream processing and business intelligence. Whether you're looking to increase security, improve business insight, or reduce infrastructure costs, this release has you covered. Upgrade today and experience the future of video stream processing!
About Omni Agent
The OMNI Agent is a sophisticated video analytics and identification software. It specializes in recognizing and tracking faces and silhouettes in video streams from cameras and video files. Its key capabilities include detecting and identifying faces and silhouettes, estimating attributes like gender, age, and emotions, and recognizing human activities such as falls or fights. The data captured is sent to the OMNI Platform or a third-party service for centralized management and aggregation. OMNI Agent operates in two modes: online, where it exchanges data with the OMNI Platform, and standalone, where it interacts only with a third-party service via webhook.